Abuse Case Is Opportunity for Pope
- An Argentine court finally sends to prison a priest convicted of child sex abuse in 2009 and defended by the Pope

- This is an opportunity for Pope Francis to be transparent and pastoral

- See our new summary, with translated articles and court documents, of then-Cardinal Bergoglio's involvement in this controversial case
A pedophile priest in Argentina who has stayed free since his criminal conviction four years ago in part because of covert lobbying of judges by the Argentine bishops' conference, headed by then-Cardinal Bergoglio, finally has started serving his 15-year sentence. This week, an Argentine criminal court ordered Father Julio César Grassi immediately to go to prison for molesting a 13-year-old boy in the late 1990s.
According to
news reports
, Cardinal Bergoglio, now Pope Francis, led a private campaign to exonerate Grassi and discredit his victims after Grassi was convicted in June 2009. See
our analysis of the Grassi case and dossier of articles and documents
, which we made public this week.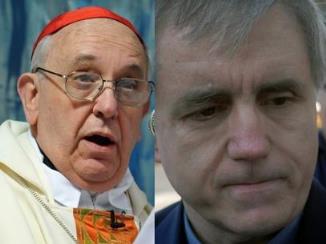 Now, as leader of the Catholic church, Pope Francis has an opportunity to order a full account of child sexual abuse by clerics in Argentina, and the cover-up by Argentine bishops. Six months into his papacy, the Pope has addressed financial corruption but not the corrupt shielding of sex offenders by bishops. He has expressed solidarity with nearly every vulnerable population except for those who were sexually abused within the church.
We are especially troubled that the Pope lobbied for Grassi so recently – in 2009 and 2010, years after the worldwide cover-up scandal broke and bishops in the US and Europe began implementing reforms, and soon after Bergoglio was nearly elected Pope in 2005.
Pope Francis in his America interview was contrite about his management failings as provincial of the Jesuits in Argentina during the dirty war, though he doesn't mention his Jesuit subordinates, Orlando Yorio and Francisco Jalics, who were arrested, tortured, and released, let alone
Mónica María Candelaria Mignone
and her friends, who were arrested with the priests, tortured, and murdered. (See also a
Google translation into English
of the Mignone page.) The Grassi decision is the moment for Pope Francis to use the discernment also discussed in the interview to bring transparency to his time as a high archdiocesan official, archbishop, and cardinal in Buenos Aires. We urge that he order the release of a complete list of all credibly accused clerics with whom he dealt, both as an archdiocesan official and a Jesuit provincial, and that he compel Argentine bishops and religious superiors to publish
similar lists
, as 26 US bishops and religious superiors have done.
Pope Francis is no longer cardinal archbishop in a great and deeply Catholic country. He is Pope to all Catholics and inheritor of the revelations and changes obtained by sexual abuse victims from Los Angeles to Dublin and Brussels to Sidney. He is overdue to embrace this legacy and extend it. We assume Pope Francis eventually will meet with clergy sex abuse victims, as Benedict XVI often did. We urge him to set up his first meeting with the victims of Grassi and other victims of Argentine abusers. And we trust that he will exercise his unique power immediately to remove Grassi ex officio from the priesthood. The compassion so evident in Pope Francis's first half-year as Pope must be extended to the church's own wounded – in the terms of Francis's battlefield hospital metaphor – the child victims of "friendly fire." They are grievously wounded, some of them near death, and they need and deserve Pope Francis's care.
Summary
Sources
Grassi was a Salesian until 1991, when he became a priest of the Morón diocese. In 1993, he founded Fundacion Felices los Niños (the Happy Children Foundation), aimed at rescuing street children. According to a news article, the foundation cared for 6,300 children in 17 homes nationwide from 1993 to 2002.
On 11/29/2000, an anonymous complaint filed in the Juvenile Court of Morón accused Grassi of corrupting minors. The case lay dormant until 10/23/2002, when Telenoche Investiga,an investigative news show on Argentina's Channel 13, aired a program alleging Grassi's sexual abuse of five boys, ages 11 to 17. It included an interview with a young man, his face obscured, who said that Grassi performed oral sex on him in 1998, when he was 15. Within days, Grassi was arrested and charged with 17 counts of abuse of three boys, who were 9, 13, and 17 when the alleged incidents occurred. Grassi denied all the allegations.
In November 2002, the executive committee of the Argentine bishops' conference issued a statement denouncing a "campaign" intended to "blur the image" of the Catholic Church and "cause society to lose its trust" in the institution. It warned against making "condemning judgments about individuals or institutions before a fair trial." Although the statement did not refer to a specific attack, some news analysts interpreted it as the bishops' response to public uproar about Grassi and the recently arrested Archbishop Storni. The Executive Committee was headed by Archbishop Karlic of Paraná and his first and second vice-presidents, Monsignor Miras of Rosario and Cardinal Bergoglio of Buenos Aires.
Grassi's trial, one of the longest in Argentine history, began on 8/20/2008 and lasted for nine months, with testimony from 130 witnesses. On 6/9/2009, he was found guilty of two acts of aggravated sexual assault and corruption of minors in the case of "Gabriel." He was acquitted of 15 other counts of abuse of "Luis" and "Ezekiel." He was sentenced to 15 years in prison but allowed to remain free pending his appeal. He was prohibited from going alone to his Foundation's offices and children's homes but could enter them if accompanied by an individual whom he could designate.
On 6/20/2009, 49 priests and 50 laypeople issued a statement opposing the court's decision to let Grassi remain free. They also criticized the "silence of ecclesial leaders before this case and others." The signers said, "We see that other bishops' conferences like Colombia's have spoken up in similar cases, and we do not understand your silence, that has the appearance of 'hushing up' and 'tolerance.'"
On 9/14/2010, the Criminal Appeals Court of Buenos Aires province denied Grassi's first appeal and confirmed the 15-year sentence. A few days later, the local court in Morón ruled again that Grassi could remain free until his conviction was final. He was prohibited only from entering the offices of the Happy Children Foundation. Subsequent attempts by the prosecutor and victims' attorneys to have Grassi detained were rejected twice, in November 2010 by the Appeal Court of Morón and in June 2011 by the Criminal Appeals Court of Buenos Aires province.
On 3/9/2012, the bishop of Morón, Luis Eichhorn, wrote to the Court of Morón, asking that Grassi be allowed to transfer back to the Morón diocese. (Grassi had been living somewhere in the diocese of San Justo.) Eichhorn asked specifically if Grassi could live in the town of Hurlingham, at LaBlanquita, a house with a swimming pool and large park, on the same block as the Happy Children headquarters, where Grassi had assaulted Gabriel. On 3/10/2012, the Court granted Bishop Eichhorn's request.
On 4/24/2013, the Criminal Court of Morón ruled affirmatively on a plaintiff's motion that Grassi had violated conditions of his freedom by referring to a victim in a TV interview. Grassi's lawyers announced they would appeal the decision. On September 19, 2013, the Supreme Court of Buenos Aires province rejected Grassi's appeal and ratified his 15-year sentence. On September 23, 2013, the Morón Criminal Court No.1 ordered that Grassi immediately go to prison to begin serving his sentence. In February 2014, Grassi filed a request from prison requesting to be free until the national Supreme Court reviews his case.
As of March 2014, 11 years after his arrest and nearly five years after his conviction, Grassi remains a Catholic priest.
Father Grassi and Cardinal Bergoglio
Throughout the trial, Grassi claimed to be supported by numerous bishops, especially Cardinal Bergoglio, who, he said, "never let go of my hand [and] is always at my side." Though long a public supporter of the Happy Children Foundation, which ran homes in the Buenos Aires archdiocese, Bergoglio said little to defend Grassi publicly after his arrest. In a 2006 interview with Veintitres magazine, Bergoglio said that "justice will determine" Grassi's innocence, although "there is a media campaign against him, a condemnation in the media." In August 2008, a spokesperson for the Argentine bishops' conference, then headed by Bergoglio, said that Grassi's claim of the cardinal's backing was "an affirmation that he's making on his own." He added that the bishops "are respectful of the rule of law" and that innocence must be presumed until proven otherwise.
In a tragic, separate matter involving one of Grassi's facilities, although not Grassi himself, Bergoglio acted decisively to protect children. In September 2008, an auxiliary bishop of Buenos Aires, Horacio Benites Astoul, apparently reported to law enforcement the suicide of a young person who had been sexually abused by another juvenile at a Foundation facility, the St. Joseph the Worker Home in the city of Buenos Aires. In April 2009, a civil court judge ruled that the children from St. Joseph the Worker must be relocated to a safer environment. When nuns and other St. Joseph staff obstructed attempts to move the children, the judge put the children in the temporary custody of the archdiocese. In May 2009, Bergoglio issued a statement defending the archdiocese's intervention at St. Joseph the Worker. In a follow-up statement a few days later, however, Bergoglio made clear that his earlier comment pertained only to events at the St. Joseph facility and not to the child molestation case against Grassi himself.
Indeed, after Grassi was found guilty in June 2009, Bergoglio secretly authorized an extensive critical examination of Grassi's prosecution and of the three original plaintiffs. In his capacity as president of the Argentine Bishops' conference, Bergoglio approved the hiring of a leading criminal defense lawyer and legal scholar, Marcelo Sancinetti, to do the private investigation.
The resulting study vigorously asserted Grassi's innocence and, according to a Página/12 report, denied even the prevalence of child sexual abuse itself. It reportedly was circulated to judges who had yet to make determinations in the case. The first volume, with 423 pages, debunked the accusations of "Ezequiel," of which Grassi was acquitted; volume two, with 646 pages, attacked the credibility of "Gabriel," of whose abuse Grassi was convicted. As of spring 2013, a third volume had been produced, and a fourth and final volume was expected.
The bishops' commissioned exoneration of Grassi was revealed in December 2011 by Juan Pablo Gallego, an attorney for the Committee for Oversight and Implementation of International Conventions for Children's Rights, who had represented the plaintiffs at the trial. Gallego called the study a "scandalous instance of lobbying and exerting pressure on the Court" and accused the bishops of "further hindering a process that has outrageously granted the condemned priest a situation of almost unthinkable freedom."
Grassi remained free pending appeal until September 2013, when his second appeal was rejected by the provincial court, and the Morón Criminal Court No.1 ordered that he finally go to prison.
About BishopAccountability.org
Founded in 2003, BishopAccountability.org is based in Waltham, Massachusetts, USA, and documents the crisis of child sexual abuse in the Catholic Church. It offers an online collection of more than 100,000 pages of church records, legal documents, and media reports. Its hardcopy archive is approaching one million pages. The mission of the organization is to give the public convenient access to information pertaining to the abuse crisis in the U.S. and worldwide. An independent non-profit corporation, BishopAccountability.org is an archive and a data center. It is not a victims' advocacy group or a reform group.