Fr John Mc Manus: Priest cleared of abuse claims resumes duties
VIA BBC NORTHERN IRELAND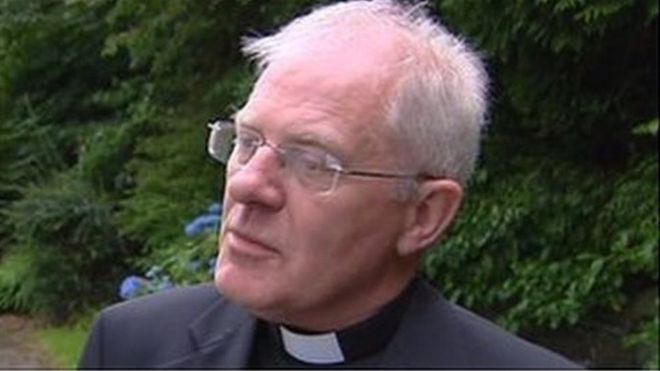 A senior priest who was cleared of abuse allegations more than three years ago has returned to his duties.
Fr John McManus, from Portaferry, County Down, stepped aside in March 2011 during an investigation.
In June 2012, the Public Prosecution Service decided he had no case to answer.
Fr McManus told parishioners he was "delighted and privileged" to be joining them in celebrating Mass.
"The last time I celebrated Mass in this Church of Saint Patrick was on 9 March 2011, Ash Wednesday, when I informed you that I had requested administrative leave from ministry for the duration of the necessary inquiries.
"Since then, I have been very much at home living here among you.
"I wish to thank especially my family, my neighbours and friends of all faiths and none for their support and kindness shown to me during this time."
Safeguarding
Police conducted an inquiry after a complaint was made to the Diocese of Down and Connor's child safeguarding office.
Fr McManus was a former press spokesperson for the diocese and a member of its committee that oversees the safeguarding of children.
He celebrated Mass in Portaferry on Saturday and Ballygalget on Sunday along with Bishop of Down and Connor Noel Treanor.
Bishop Treanor said Fr McManus had co-operated fully with a "thorough investigation by the police and the Public Prosecution Service", as well as an inquiry within the Catholic Church.
He told churchgoers that the "canonical judicial inquiry concluded that there were not and are not any safeguarding issues that prevent his return to ministry".
"I wish Fr John many happy years of fruitful ministry after the past four and a half years, during which time he has been supported by his family, by friends and by you, his parishioners."
BISHOP PAT SAYS:
John McManus has been found NOT GUILTY of the allegations that were made against him by both the civil and ecclesiastical authorities.
The police and the Prosecution Service decided that there was not sufficient evidence to prosecute him and a lengthy Catholic Church enquiry also cleared him.
That means that in civil and church law he is innocent and therefore he must be fully treated as innocent.
It is NOT a question of whether you like John McManus or not. I have spoken to people, especially former seminarians of whom he was in charge in St Malachy's who do not like him. I have seen comments on other Blogs from people who do like him.
I am not one of his fans. My main experience of him was in the context of the Father James Donaghy case - the case of the PP of Bangor who is in prison for sexually abusing young men. I believe he played a less than helpful role in that case.
When he stepped down from active ministry in 2011 he was the Chancellor of the Diocese of Down and Connor.
While he has been away his replacement, Father Eugene O'Hagan has had the title "Chancellor Ad Interim".
Eugene (centre)
Is Bishop Treanor not morally bound at this stage to restore him to his former position as Chancellor?
Why would an innocent man de deprived of the position he held before the now declared unfounded allegations against him.

As of today - on the Down and Connor website Father McManus is still listed as c/o Bishops House and Father O'Hagan is still listed as Chancellor.

Where is Father McManus ministering today?
Come on Noel. Put your "money" where you mouth is!