FATHER CIARAN DALLAT TO GO TO PRISON! /RASHARKIN PARISH MYSTERY
BREAKING NEWS - DIOCESE OF DOWN AND CONNOR -
This Blog learned today that Bishop Treanor has begun negotiations with the NORTHERN IRELAND OFFICE - to have the sex scandal priest - FATHER CIARAN DALLAT appointed as a prison chaplain on a full government salary.
Bishop Treanor and Father Dallat caused public uproar on Holy Thursday when Dallat appeared among the diocesan clergy con-celebrating the Chrism Mass.
As a result of the fury caused by Father Dallat's appearance in the cathedral it is thought that Bishop Treanor has come to believe that it would be impossible to impose Father Dallat on a parish - due to the possible objections and uproar in the parish.
Bishop Treanor has been in negotiations with his advisers to see if he can slot Father Dallat into a non parish role and apparently the suggestion emerged of appointinmg him to the prison service!
However this proposal is marred with difficulties. Father Dallat did take advantage of a vulnerable and grieving woman parishioner and made her pregnant.
Prison is full of vulnerable women and even though Father Dallat may behave himself is it really wise to appoint him to a pastoral situation where he will be dealing with very vulnerable women?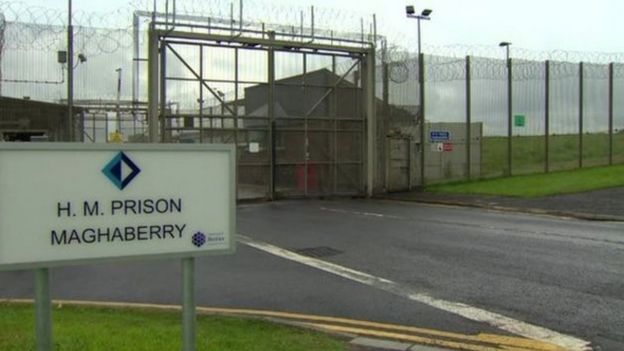 It seems that in his termination to have Father Dallat back Bishop Treanor is coming up with more and more unwise options for Father Dallat.
Bishop Treanor needs to realise that Father Dallat is probably damaged beyond the point of reinstatement in the priesthood.
If he really wants him back maybe he should apoint him as his private secretary and leave Father Joe Glover, his present secretary, free to be appointed to a parish or indeed to the prison.

DOES BISHOP TREANOR KNOW WHAT HE IS DOING IN DOWN AND CONNOR AND THE PROBLEMS HE IS CAUSING ???
RASHARKIN PARISH ENGULFED IN MYSTERY
THE CATHOLIC PARISH OF RASHARKIN in County Antrim is engulfed in mystery sine Holy Thursday just before Easter.
It appears that on Holy Thursday in Holy Week the parish priest - Father John Murray - without any warning - became suddenly ill and unavailable.
John Murray
Father Murray's welcome on the Rasharkin website:
Welcome to St Mary's Parish Rasharkin, I am the Reverend John Murray, the Parish Priest of Rasharkin Parish. I was ordained a priest in 1965 and served in Belfast for the first 10 years of my ministry. I have also served in Coleraine, Lisburn and Antrim before moving to Rasharkin in 2009.
I enjoy being with people and sharing in their happy times and being there to support them in their sad days. I always try to be optimistic in everything I do and to live my life in the present rather than in the past or the future. While it is good to look to the past, and it is necessary to plan for the future, we must always remember that we will never get a chance to relive today and therefore we must enjoy each day and be in harmony with God and thank Him for today.
I enjoying playing golf on my time off and making cups of tea when anyone calls at the Parochial House.
Apparently at the same time Bishop Noel Treanor arrived at the parochial house to have a meeting with Father Murray.
Bishop Treanor - his Northern Ireland Office portrait
Bishop Treanor was accompanied to Rasharkin by the diocesan Chancellor, Father Eugene O'Hagan - who has adopted the Bishop Treanor hairstyle.
Eugene with his new "Treanor" hairstyle
Father Murray's Holy Thursday ceremonies were conducted, at short notice, by the curate of All Saint's Parish, Ballymena - Father Darren Brennan.
Father Darren Brennan - at rear.
The Diocese of Down and Connor has not released any statement about Father Murray or his state of health.
We hope that he is ok?