"I WAS A SEMINARIAN FOR SEVERAL YEARS AND NOW I AM A GAY ESCORT AND SOME OF MY CLIENTS ARE BISHOPS AND PRIESTS".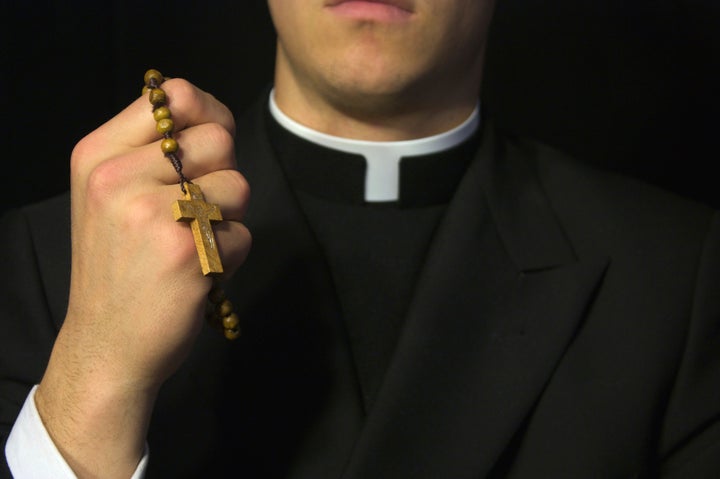 So began an email letter that I recently received from a young man in his 30's who now lives in Rome. While he himself was born in the "new world" he is of Irish ancestry. He was accepted for the priesthood of his home diocese and then sent to Rome to study theology for 4 years.
I met this ex seminarian through an Irish seminarian - now ordained - who studied along side him in a Roman university. He visited Ireland on one occasion and he and his Irish seminarian friend came to see me in Larne.
I have been asking him for some time to write an anonymous account of his journey and he has now agreed - on condition of course that I do not identify him or anyone connected with him.
I will let him speak for himself:
"From about the age of ten I knew that I was gay. However from the same age, as an altar boy, I dearly wanted to be a priest.
I had one or two fleeting and very low grade encounters when I was in secondary school and felt guilty about them and confessed them. The priest, while being kind, told me I had committed very serious sins. I resolved not to commit those sins again and after that I had no sexual experiences until I entered the seminary to train for the priesthood.
I was three years in the seminary in my own country and while nothing sexually happened to me during my first year I did have a number of sexual encounters with young priests and seminarians in my second and third years in the seminary. I also engaged in sexual activity with others during holidays away from the seminary. I had no guilt feelings about being gay and the more sexual experiences I had the less that bothered me morally. I had come to the conclusion that God accepted me as a gay man and that God did not expect me to refrain from human and sexual intimacy all my life. That kind of a God would be a cruel God in my thinking.
I had been gifted with good academic abilities and was among those chosen to study their theology in Rome. I was excited going to Rome for all kinds of reasons and I had no idea that my sex life in Rome was going to be so active. Any seminarian or priest who has trained in Rome - especially in the last couple of decades will know that the majority of priests and seminarians there are of the gay orientation and that many of them act on their orientation.
For better or for worse God had given me very good looks and a very attractive body. From the beginning in Rome I knew that I was being given special attention because I was handsome. This did not go to my head. I just admitted to myself that it was a fact.
During my first months in Rome many priests and seminarians "came on" to me. I tried to resist this but I was not strong enough I suppose. I was far away from home and I knew no one except those in my clerical circles.
I always tried to have sex in the context of love and feelings - that is not sex just for sex's sake. I met some priests and seminarians who wanted relationships and others who just wanted sex. I was invited to a lot of parties and gatherings in various apartments and restaurants and it soon became clear to me that there were many priest / priest, priest / seminarian and seminarian / seminarian "couples. However that did not always mean that they were faithful to their "partners". Not at all.
I was invited to take part in "threesomes" and in gay sex parties. I refused. Not because I am "good" but simply because I do not like it when there are more than two people being intimate at the one time. It is a personal preference. For instance I have never been to a gay sauna - and Rome is full of them - and they are full of clerics.
Eventually I did have encounters with clerics of the episcopal rank - some resident in Rome on some on visits to Rome for things like the 5 yearly Ad Limina.
These men often brought me out to dinner in expensive restaurants and then back to their hotel room for "fun" or a stay over. Most of them gave me financial gifts and occasional other gifts. One or two invited me to visit them in their home countries and I did that on a small number of occasions.
My whole lifestyle led to to a personal crisis - not to a crisis of faith and I believed and still believe that God loves me regardless of what I am or what I do.
But it led me to a crisis of vocation. I realised that I personally could not preach one thing and do another.
I realised that I could not pretend to be celibate and chaste and be secretly sexually active.
I decided - and decided of my own accord - to leave the seminary and no longer pursue a priestly vocation - at least not as long as I was sexually active.
My dilemma then was whether or not I wanted to stay in Rome or return to my own country or indeed move to yet another country. I had plenty of offers from clerics to move to their countries.
I decided that I would stay in Rome. I also decided that I would embrace the role of a gay escort as my source of income.
A monsignor friend of mine arranged for me to rent a small apartment from a wealthy and elderly lady friend of his. I was offered the apartment rent free and I refused. I insisted on paying the going rate as rent. By this time I had built up a nice little nest egg from the many "gifts" I had received.
I am now buying the apartment from the son of the elderly lady who has since passed away. I still work as a gay escort and while my clients are not exclusively clerical I still have a number of junior and senior clerics who avail of my services. I have a set fee for my services but am often given extra. I have also received expensive gifts of things like jewellery and watches from clients. My Rolex was a gift from a grateful and kind prelate. I have my own car and have my fair share of good holidays - some holidays being working holidays.
I know that I am not the only young gentleman in Rome that takes care of the needy clergy that visit the Eternal City. I realise that I will be getting older and there will come a time when younger and more beautiful boys will replace me on the "Via Piacere".
I do remember our meeting in Larne with ****** and the nice meal you treated us to. I have not heard from ******* in a long time. I heard from someone in The Irish College that he is in a parish. I doubt if he will be overworking himself. I do read your blog and enjoy it. I never cease to be amazed at how gullible the poor Irish are when they think that their bishops and priests are saints. Those of us at the coal face of the clerical world know that celibacy has never worked, is not working and will never work for the majority. I agree with you when you say that the priesthood is now a majority gay profession. If your readers knew a quarter of what we "Romans" know they would be horrified. Arrivederci. ****"