VERY REVEREND FATHER RICHARD GEOGHEGAN PP - BALLYNEALE - TIPPERARY
ON RTE 1 ON SUNDAY NIGHT AT 8.30 PM WE SAW AN IRISH PARISH PRIEST PERFORM A DRAG ACT AS SHIRLEY BASSEY.
IT WAS THE THIRD IN A SERIES OF FRANCIS' BRENNAN'S TOUR OF VIETNAM WITH 12 TRAVELLERS - INCLUDING FATHER GEOGHEGAN.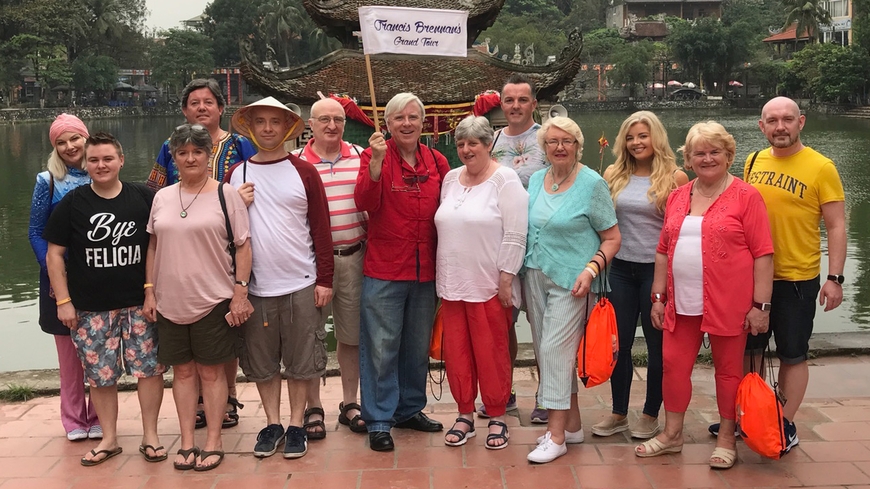 A Blog reader had told us that we were in for a treat on Sunday from Father Geoghegan and we all waited with bated breath.
Would it be a new colourful shirt? A new hairdo? A new tattoo?
But the treat was to leave all those in the ha'penny place. Father Ricardo really surprised us - and with full female dress, jewelry he appeared as the famous singer Shirley Bassey.
Father Richard says that he is following the parable Jesus preached about not hiding your talents under a bushel but to go out and use them. He is saying that he has a talent for drag and he is using the drag talent that God gave him.
So, what, if any, are the issues here?
1. Is it ok for a parish priest to dress as a woman and do a drag act on public TV on a Sunday night at prime time?
2. Are people entitled to be shocked at this - or does people being shocked show that they are old fuddy duddies?
3. Is there any way in which RTE are exploiting Father Geoghegan?
4. Are there deeper, more personal and possible health issues involved here?
5. Phonsie has "A DUTY OF CARE for Father Richard. Is he fulfilling that role?
6. Is Phonsie being emotionally blackmailed by someone?
7. Is Richard's drag act Phonsie's idea of Theology of the Body?
MESSAGE FROM ONE OF RICARDOS PARISHIONERS:
It was sad. It is a complete mockery of what he is meant to stand for. But it's a common occurrence at weddings and celebrations he attends. He has a collection of wigs and high heels.
Thanks for highlighting his living arrangements
even though I doubt anything will come of it. Phonsie is very smug in himself.
----------------------------------------------------
MEATH NEWS
CONGRATULATIONS