Priest who claimed 'gay mafia' controls Catholic church seeks parish return
Father Matthew Despard was rapped by the church over explosive claims in his book Priesthood in Crisis.
A Catholic priest at the centre of gay mafia accusations is set to return to a Scottish parish.
Father Matthew Despard, 52, was forced to quit after being rapped

by the church

over explosive claims in his book Priesthood in Crisis.
He wrote that a "powerful gay mafia" was operating at the top of the

Catholic

hierarchy and was responsible for sexual ­bullying
Despard was forced to stand down from his post at St John Ogilvie's Parish in

Blantyre

, Lanarkshire.
The priest also spoke out about the gay mafia in Catholic seminaries.
But he could now return after a Vatican court "partly reversed" the decision of a Scottish church tribunal.
Bishop of Motherwell Joseph Toal said: "Fr Despard has requested he be allowed to return to public priestly ministry by being given a new pastoral assignment."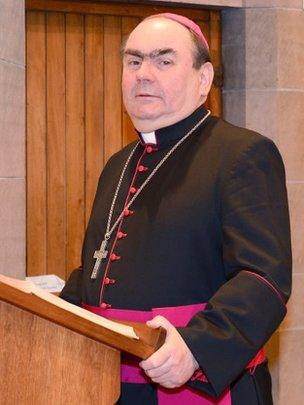 BISHOP TOAL
Last night, I had a telephone call from a gentleman in the Diocese of Motherwell, who expressed concern about the fact that the family of a deceased lady, Teresa Howie RIP, had asked if their former (now suspended) Parish Priest, Fr Matthew Despard, who is a personal friend of the deceased and family could officiate at her funeral on Monday next. The permission was refused. The PP is going off on holiday, so presumably another priest, with no connection to the family, will be sent in to conduct the funeral.
The caller asked if we could help, so I emailed the diocese last night as follows:
"For the attention of Bishop Toal
I have been contacted by friends of a deceased lady – Teresa Howie of St John Ogilvie parish – whose funeral is scheduled to take place in that parish on Monday morning.
I'm told that the family asked for Father Matthew Despard to officiate at the funeral because he is a friend of the deceased and family but that this request was refused.
I am aware of Fr Despard's situation within the diocese. Nevertheless, this seems a very harsh and unnecessary decision.
Since we always seek to avoid undue publicity if at all possible, I await your response before taking any further action.
Will Fr Despard be permitted to conduct Teresa Howie's funeral?
Kind regards (Editor, Catholic Truth]
This morning, I received the following reply:
I reply on behalf of Bishop Toal
It will not be possible for Fr. Despard to celebrate the Funeral Mass for Teresa Howie, R.I.P
.
Fr. James Grant
Chancellor
I replied to his reply to simply thank him for his prompt reply.
Consider this:
there are priests out there guilty of many shocking scandals, which range from publicly preaching against the Faith to hitting the tabloid headlines due to being caught in sexual scandals. In the latter case, there is one such Glasgow priest who does the rounds within the archdiocese, giving talks to the intelligentsia. There was no "punishment" of any kind for him. Yet Fr Despard has paid a very heavy price, for what, at worst, could be described as a lack of good judgment – and I'm not even sure about that, since I hear fairly regularly from people who know the Diocese of Motherwell very well and argue that his expose was necessary; I don't know enough about that but certainly he has paid a heavy price and continues to pay a heavy price for writing his book, in good (if misguided) faith.
So, I'm doing what I promised the caller – giving some publicity to the refusal of the Bishop of Motherwell to permit Fr Despard, family friend and friend of the deceased lady herself, who has been one of his staunchest supporters throughout this difficult period of his suspension, to conduct her funeral. Seems vindictive to me. In any case, please pray for the repose of the soul of Teresa Howie, and for consolation for her family at this sad time.
PAT SAYS:
Father Despard was dismissed from his parish and suspended SIMPLY FOR TELLING THE TRUTH!
What was that truth:
1. That the Catholic Hierarchy is manned by promiscuous and bullying homosexuals - all the way to the top.
2. That as an army chaplain other priests had tried to seduce him.
3. That seminaries were being taken over by promiscuous homosexuals.
4. That other priests had tried to seduce him.
Instead of listening to Father Despard's claims - and investigating them - Father Despard was removed from his parish and suspended.
He then appealed his sacking to a Scottish Church Tribunal and they upheld his sacking.
Father Despard then appealed to Rome and his punishment has been "partly lifted" and he has requested to return to pastoral work.
What kind of an organisation sacks its whistle blowers?
ANSWER: A CORRUPT ONE.
By all accounts, Father Despard is a good priest. He obviously loves his Church and priesthood - and wishes it to be purified.
When I was sacked by Cahal Daly - in a similar way - and for similar reasons - 31 years ago I decided not to appeal to a Church court.
I felt that it would be like indicting the Devil and holding the court in Hell.
The Tribunal Cahal Daly offered me had the following conditions:
1. The Tribunal would consist of 10 priests - 9 appointed by Daly and 1 appointed by me FROM A LIST HE WOULD GIVE ME!
2. Daly could meet the panel - but I could not!
3. The panel could read my personnel file - but I could not!
4. I could not hear the charges or evidence that Daly would bring against me!
5. There would be no further appeal!
There is very little justice in canon law for those at the lower levels.
I am pleased that Father Despard that he is being allowed back to ministry.
But HIS CARDS HAVE BEEN MARKED and he will have to lie very low to please Bishop Toal and senior clergy.
If priests want justice and rights they need to form a CLERGY TRADE UNION capable of bringing the Hierarchy to a halt.
Of course, any priest joining that union will not get promotion and will always be a PERSONA NON-GRATIA.