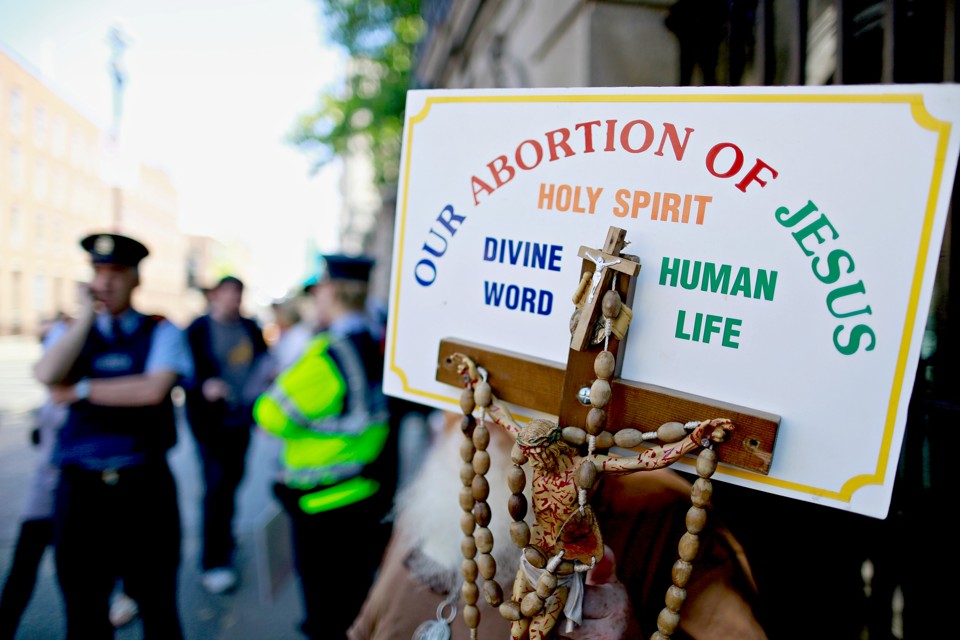 FROM NOW ONWARDS WE ARE ALL GOING TO WITNESS AN AGGRESSIVE AND EMOTIONAL DEBATE AS IRELAND MOVES TOWARDS ITS EIGHT AMENDMENT REFERENDUM TO DECIDE IF ABORTION WILL BE MORE AVAILABLE IN IRELAND.
Currently, some 10 Irish women per day take a flight or a ferry to travel to the UK to procure a termination which is not available in Ireland - with the exception of an abortion pill.
There is a very fanatical anti-abortion camp which often calls itself PRO-LIFE.
There is an equally fanatical camp which calls itself PRO-CHOICE.
I imagine that most Irish people are like myself - in the middle - and struggling with what we all realize is a very contentious issue.
I am Pro-Life - in the sense that I treasure and value ALL human life. But that does not immediately mean that I am anti Choice.
The first thing I would say is that abortion can never be called "A GOOD THING". At best, and in difficult situations, it should be called "THE LESSER OF TWO EVILS".
When a couple has to decide that they are going to save the life of the mother - and that results in the death of the unborn baby they are not doing something that calls for a celebration. In fact, in most such cases, they make the decision in great sorrow - a sorrow that can last for years or even a lifetime.
If I were a husband and my wife was pregnant and we had three other children at home needing their mother, I am quite certain that I would choose saving my wife's life and see my choice as being the lesser of two evils. It would break my heart and be the cause of lifelong regret for me. But I would believe that in an imperfect world I would have made a morally justifiable decision.
And what if I were the father of a young teenage girl who was raped and could not cope with a pregnancy and giving birth to a baby? What would I do then? Again I would choose the baby's termination as a lesser of two evils.
And what if I were married and the doctors told me that my wife and I were going to have a baby that would not survive outside the womb or would be very seriously ill and disabled all its life? Again, I think, I would allow the baby to go to God and prevent it having years and decades of pain and suffering.
I think that perhaps the situation is different when it comes to conditions like Downs Syndrome and similar conditions. I have seen such people having very meaningful and long lives and even working or getting married.
And I am not talking about these situations as if they have never affected my life.
My younger sister Sandra was born with a very serious disability called Tuberous Sclerosis. She lived until she was 39 and was in a wonderful care environment from the age of 12 to 39. She was also partially blind.
ON SANDRA'S FIRST HOLY COMMUNION DAY
Tuberous Sclerosis left Sandra with severe brain scaring. This gave her the most severe headaches and caused her to bang her head off the wall in order to get relief. She had to go into care when she was 12 because she banged her head so much off the wall at home that she knocked a hole in the wall between two bedrooms.

She also had severe suffering involving her hormonal issues after she passed puberty - which was solved by 6 monthly contraceptive injections (against Catholic Church teaching ???)

Fortunately, her care venue was near our family home and we were able to visit many times a week.

Sandra could talk but chose not to. I communicated with her by singing hymns to her - which she loved - singing with me and marching around the room after me.

Her favourite was I HAVE DECIDED TO FOLLOW JESUS which I place on the Blog today in memory of her.
Sanda died six years ago and is buried with my Mum and Dad in Dublin. I had the privilege - and sadness - of celebrating her Funeral Mass.

Did Sandra have quality of life? Yes, she did. She had a lovely room in a lovely centre. She had all she needed physically. She was brought by her carers to the pub for a Coca Cola. She was brought on foreign holidays. She liked an occasional cigarette.
But My God did she suffer!

Now her suffering is over.

Abortion is NOT a step to be taken lightly. It is not an appropriate form of contraception.

It is not something that should ever be done for convenience or for less than the most serious reasons.

But I cannot say, in my heart of hearts, that it should not be allowed in the most difficult of cases.