Sex abuse bishop Peter Ball and brother seek Catholic switch- BBC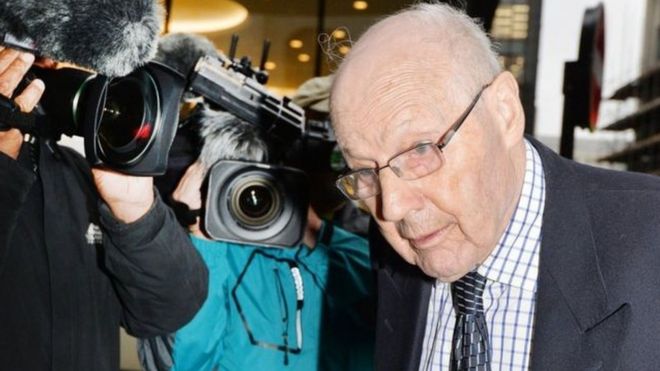 A former bishop jailed for sex offences and his twin brother have said they are looking to join the Catholic Church to "live and worship in anonymity".
Peter Ball, who is now 85, was
jailed for 32 months
in October 2015 for offences against 18 teenagers and men.
The former Bishop of Lewes and of Gloucester carried out the abuse between the 1970s and 1990s.
Ball's identical twin and former bishop Michael Ball said in an email events had "wearied and reduced us".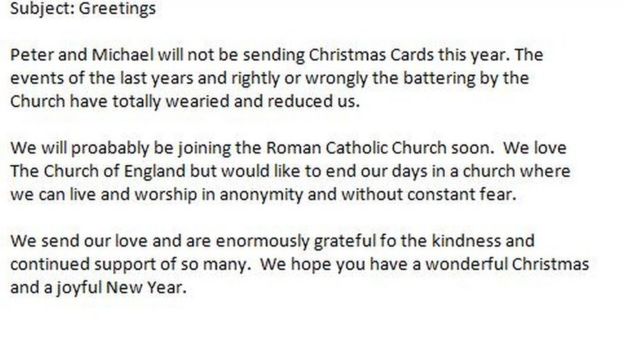 In the email, mistakenly sent from Michael Ball to BBC South East's Colin Campbell among others, the brothers said having been "battered by the Church" they would be looking to join the Roman Catholic Church.
They said they would like to "end our days in a church where we can live and worship in anonymity and without constant fear".
The BBC contacted Michael Ball about the email and he said a move to the Catholic Church was "a possibility".
The Roman Catholic Diocese of Arundel and Brighton said in a statement: "We confirm that Peter Ball has been in contact with the Roman Catholic Diocese of Clifton, in which diocese he now lives, expressing an interest in becoming a member of the Catholic Church.
"This matter is subject to discussions between Clifton Diocese and the statutory authorities, who are the lead with regards to Peter Ball's risk management in the community."
'Manipulative' campaign
Dame Moira said he had received seven letters from families and individuals following the arrest and cautioning of Ball in 1992 for gross indecency - when he stood down as Bishop of Gloucester - but failed to pass six of them to the police.
Lord Carey had also failed to put Ball on the the "Lambeth List" which names clergymen whose suitability for ministry had been questioned.
Dame Moira also heard Bishop Michael Ball allowed his brother to attend functions in his place, even after his resignation, and on one occasion Peter Ball had introduced himself as his brother.
In 1994 Michael Ball campaigned to Lord Carey to return his brother to the ministry, with one bishop calling the brothers' activities "manipulative",
Dame Moira reported
.
Between 1995 and 1997, with Lord Carey's backing. Peter Ball returned to church ministry, eventually undertaking duties such as confirmations.
After a series of investigations Balls' ministry ceased in 2011, Dame Moira reported.
PAT SAYS:
I don't think that the Catholic church needs these two Balls!
I'm afraid we have enough homegrown pedophile priests ourselves without importing more from the Church of England.
If these two men do become part of a worshipping congregation the child protection officers in that parish will need to take a special interest in them to make sure that the parish's children and vulnerable adults are not put in any danger.
They complain of "battering" by the Church of England! Surely those who have abused children and vulnerable adults have to be dealt with in a rigorous manner.
It strikes me that they feel sorrier for themselves than they do for their victims.
They brought their trouble on themselves.
It is not a good sign that they are wallowing in self-pity instead of being totally repentant for what they did.