JOE SEERY
Date of Birth:
19th March
1953
A native of: Corrovorrin, Ennis, Co Clare;
Educated: CBS, Rice College, Ennis
Ordained: 6th June
1976
St John's, Waterford
Estimated Timeframe of Abuse: late 1970s


Allegation Received: 1978


Left the USA: 1978


Date of Death: 2011
CURATE IN ARCHDIOCESE OF TUAM: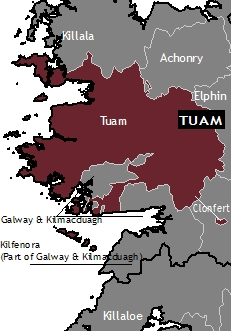 Knock;
Irishtown;
Ballyconneely;
Killawalla
In response to questions, the archdiocese said Nov. 7 that then-Archbishop Philip Hannan removed Seery's faculties amidst the allegation in 1978 "and law enforcement was involved in the investigation. Seery returned to Ireland."
DEATH NOTICE - ENNIS PARISH NEWSLETTER:
Fr. Joseph Seery
Monday, June 13th, 2011
The death has occurred of Fr. Joseph Seery, 8 Corrovorrin, Ennis& Archdiocese of Tuam.

Reposing at Daly's Funeral Homeon Wednesday 15th from 6.00pm to 7.30pm

Removal at 7.30pm to St. Joseph's Church, Ennis.Funeral Mass on Thursday 16th at 12 noon.

Burial in Corrovorrin Cemetery.

May Eternal Light shine on him.
PAT SAYS:
Yesterday a Dublin journalist informed me that a now-deceased seminary classmate of mine has appeared on the list of fifty-seven credibly accused priests of the Archdiocese of New Orleans in the USA Father Joe Seery.
JOE SEERY - BACK ROW FAR LEFT
I knew that he had been ordained for New Orleans. We were ordained on the same day by the bishop in the above pic - Bishop Michael Russell of Waterford and Lismore.
I was aware that Joe left New Orleans very quickly and then received appointments within the Archdiocese of Tuam, Ireland.
I am now surprised and shocked that Joe, who ordained at - went on to abuse within a year or so of his ordination.
In that context, it is extremely worrying that after abusing in the USA he managed to be accepted into Tuam and was allowed to serve in four parishes where he had access to children.
It is particularly worrying that he worked at Knock Shrine where he would have unrestricted access to children from all over the country and the world.
Joe Seery was accepted into Tuam by Archbishop Joseph Cunnane.
CUNNANE
There was no indication in the seminary that he was an abuser / potential abuser - at least not that I saw.
Joe Seery died at the age of fifty-eight.
I do not know the cause of his death. Maybe others do?
-------------------------------------------------------------------------------
ARMAGH PRIEST DENIES GRINDR ACCUSATION AND SAYS HE IS REPORTING THE MATTER TO THE GARDA AND HIS LEGAL ADVISORS.
A prominent Armagh priest - Father Brian White - is extremely angry at being accused of having a profile on the GRINDR app and has said that he will be reporting the false accusation to his legal advisors and the Garda.
When I received the allegation I immediately contacted Father White by telephone and as he was not available I left a message and my telephone number.
I received the following email from Father White and am happy to publish it here:
"Dear Pat,
I have received your voice message of this morning and I have spoken to my Archbishop.
This matter is causing me great distress and I completely deny these malicious and defamatory accusations.
I intend to seek immediate legal advice and to report this matter to the police for investigation.
Yours sincerely,
Brian White"