Dramatic fall in Irish religious belief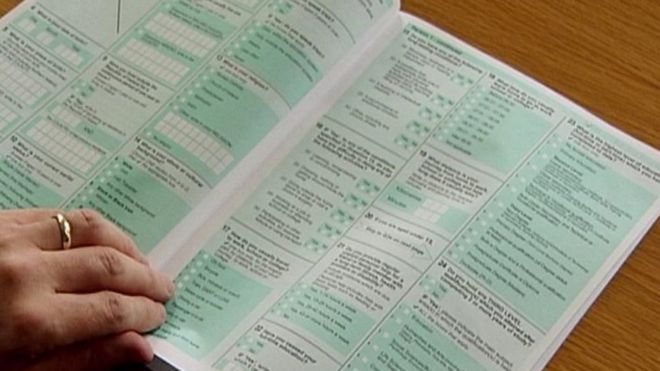 The number of people who stated they had no religion increased from 269,800 to 468,400, the census found.
Some 3,729,100 people identified as Catholic - 78.3% of the population - compared to 84.2% in April 2011.
The census was held in April 2016; its details were released on Thursday.
The number of people identifying as members of the Church of Ireland dropped by 2% to 126,400.
There were 63,400 Muslims in the state compared to 49,200 in 2011 - a percentage change of 28.9%.
Orthodox Christianity saw a rise of 37.5% to 62,400 adherents, while the number of Hindus rose by 34.1% to 14,300 practitioners.
Population increase
The country's overall population increased by 3.8% between April 2011 and April 2016 - to 4,761,865.
Mayo and Donegal were the only counties to see a population decline.
The census found there were 810,000 foreign-born people in the Republic.
There were 98 men for every 100 women in the country, it revealed, and 37.6% of the population was married.
The 2016 results show a reversal in a steady decline in average household size, which rose slightly from 2.73 people per household in 2011 to 2.75 in 2016.
Some 22,323 more people were in rental accommodation in 2016 than in 2011, with 497,111 people renting in total.
Irish language
The number of people who stated they could speak Irish dropped for the first time since 1946.
Of the 1.76m people who stated they were able to speak Irish, 73,803 spoke the language daily outside the education system - 3,382 fewer than 2011.
The number of people who said they spoke the language on a weekly basis rose slightly.
The Donegal Irish-speaking region, popular with visitors from Northern Ireland, saw a big drop in the number of people who said they spoke the language on a daily basis.
There are 5,929 daily Irish speakers in the county, a 15.8% drop since 2011.
PAT SAYS:
A blind man can see that the Irish people are falling away from religious belief.
Of course materialism and secularism have played their part in that fall away.
But the biggest factor I believe is that a more educated population is seeing through the hypocrisy and outdatedness of much of what religion was.
Ireland has basically being a "Catholic" country.
In recent years Catholicism has been greatly undermined by:
1. Bishop Eamon Casey and Father Michael Cleary and their hypocrisy.
2. The child sexual abuse scandals.
3. The gay carry on at Maynooth.
4. Bishops covering up all this scandal and abuse.
One elderly lady in her 80's said to me yesterday:
"I cannot go to Mass anymore in the mornings because when I am in the chapel I wonder where the priest had his willy last night".
And that lady had been a devout, daily Mass going Catholic for decades.

GORGEOUS AND DERMO
She is also waiting to see what Diarmuid Martin will do with Gorgeous and what Bishop Raymond Browne will do with King Puck.
The Church have themselves to blame for their decline.
The sad thing about it that this decline leads to a vacuum of spirituality in the country.